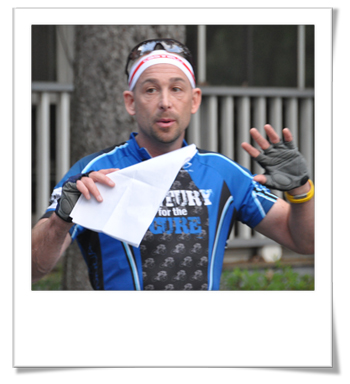 In 1990, Scott Glickman, along with friends Scott Dight and Richard Bernstein, began participating in the 200 mile Pan Mass Challenge bike-a-thon which benefits the Dana Farber Cancer Institute in Boston. Ironically, in 1997, after doing the ride for many years and raising significant funds for Dana Farber, Scott was diagnosed with stage 4 non-Hodgkin's lymphoma. While undergoing chemotherapy at the Rutgers Cancer Institute of NJ, in New Brunswick, NJ, it was a goal of Scott's to recover to a point where he would be able to participate in another Pan Mass Challenge Bike ride. He realized his dream in 1999 when he again rode in the PMC!

After doing the PMC event for 5 more years, Scott decided that it was time to bring his efforts home and give back to the hospital and staff that was so instrumental to his recovery. So in 2005, 13 riders rode 100 miles in the inaugural Century for the Cure, raising over $30,000 for research at the Rutgers Cancer Institute of NJ. Since then, Century has raised over $2,000,000 with the support of hundreds of riders and volunteers. Additional 25, 40 and 62 mile routes have been added to encourage riders of all levels to participate and share in the fun.

The profile of the Century for the Cure rider is diverse. Some riders are competitive cyclists, some are weekend athletes, and yet others have little or no previous cycling experience. Yet they all share a common goal – to eliminate cancer. And it is with the energy, commitment and inspiration of each rider that we will strive to reach that goal! 

Century for the Cure riders ride for their family, ride for their friends and ride because they can.