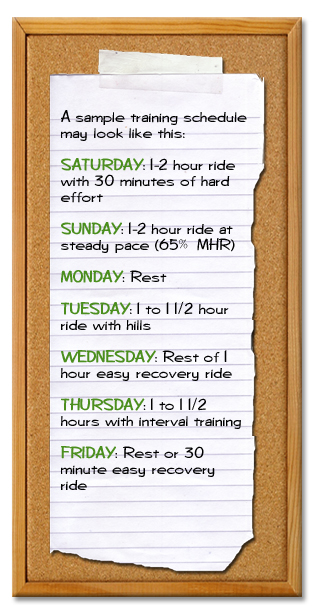 Whether this is your first Century or your 100th, proper conditioning pays dividends!  Depending on your fitness level, you should start off easy and work your way up. Here are some suggestions for preparing for the ride:

If you miss a day, don't try to make it up—just enjoy what you're doing!
Before you get started with training for the ride, consult your physician – we have to say that.
Get rolling! Start riding your bike now. Don't put it off. No other sports or activities substitute for riding. However, if you start your training at least 12 weeks before the ride, you will have ample time to prepare for the century.
Ride the hills. The course terrain is rolling hills, so make certain your training rides are not done on all flats.
Make time to ride at least three times a week at an increasing pace.
Increase strength by doing interval training. There are unlimited ways to do intervals, so mix it up and be creative.  During your training rides, go all out for 1 minute and easy spin for 1 minute. Do 5 reps of these and do it 2 -3 times per week. Another interval option is hill repeats. Find a hill with a 5-10% grade and do 5 reps of 1 minute intervals, 2 sets.
Train with a friend. Having someone to ride with is one of the best ways to remain motivated. It's best to find a training partner at your skill level, to inspire you through friendly competition.
Weight/strength training & cross training: mix up your rides with other exercise.

Gradually increase your mileage as you get closer to the Ride.
Plan to do a ride equal to at least 60% of the distance you will be riding on the day of the Century at least two weeks before.
Taper your mileage a week before the Ride.  During that week, you may even reduce your riding to one or two days of an easy five to ten mile span.